You'll Never Miss The Water Men's Shirt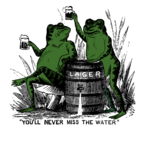 About This Shirt

With a frosty beer in your hand, you will never miss the water. Grab yourself a can or bottle of Pabst Blue Ribbon, Schlitz, Old Style, Milwaukee's Best, Natty Lite, Stohl's, Miller High Life, MGD, Budweiser, Heineken, Olympia, 312, Blue Moon, or Fat Tire and let yourself drift away from the stresses and troubles of life. Good friends and good brews make for an afternoon, evening, or full day of drunken relaxation. Frost your mugs, grab a cooler, and find a nice place to enjoy a great beer with your friends. Nothing compares to a fine frothy beer that causes your troubles to melt away. Get this great design on one of our fantastic tee shirts, tank tops, or hooded sweatshirts to make sure that your beer-drinking experience is both relaxing and fashionable. Be sure to visit our custom lettering section to personalize this great shirt with your name, the names of your favorite beers, or the places you have visited that have brought you the best times. You'll never miss the water as long as you have a great beer in your coozy. So get this great shirt from Strange Cargo, Chicago's favorite custom tee shirt shop, and make a splash at your next party!
Have questions about our shirts? Need details on sizing and fit? Get all your questions answered right here.
We offer USPS Priority Mail shipping for all orders to anywhere within the United States. Want to know when you'll receive your stuff or how we ship? All is revealed in our frequently asked questions.