You Must Be Irish...Cause My Dick's Dublin Mens Shirt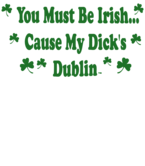 About This Shirt

Saint Patrick's Day is a great day to spend with the person you love, casually drinking green beer, staring into each other's eyes, and appreciating all of the wonderful things that the Irish have given the global community. For the rest of us, though, Saint Patrick's Day is about the luck of the Irish and getting lucky on the day of the Irish. With this custom tee shirt from Strange Cargo, there will be no question about your intention with the beautiful Irish princess at the end of the bar. Saint Patrick's Day is a day to mix drinks, not signals. Don't mince words, say all you want to say to that beautiful person who has been staring you down all day with this straightforward tee from your favorite custom tee shirt shop! You won't need to think of a clever line in your haze of green beer, Guinness, Jameson, and Irish car bombs. Let this shirt do the work for you. It is a holiday, after all, and holidays should not be spent stressing over your next move. Holidays, especially Saint Patrick's Day, should be spent relaxing with a Guinness, eating corned beef and cabbage, and wearing tee shirts that don't just break the ice, they smash through the ice like a sledgehammer. Be sure to get this design on your favorite tee or hoodie before it runs out this Saint Patrick's Day!
Have questions about our shirts? Need details on sizing and fit? Get all your questions answered right here.
We offer USPS Priority Mail shipping for all orders to anywhere within the United States. Want to know when you'll receive your stuff or how we ship? All is revealed in our frequently asked questions.