You Bet Your Tuchas I'm Jewish Men's Shirt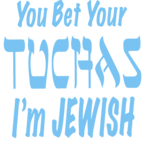 About This Shirt

You bet your tuchas I'm Jewish! I'm proud to be a part of God's chosen people who celebrate Hanukkah, Passover, and Yom Kippur. I'm proud to stand up with fabulous Jewish people like Mel Brooks, Barbra Streisand, Bette Midler, Jason Schwartzman, Adrien Brody, Sarah Silverman, Matt Stone, Adam Sandler, Gene Wilder, Gilda Radner, Jon Stewart, Sammy Davis Jr., Lenny Kravitz, Elizabeth Taylor, the Marx Brothers, Bill Maher, Gene Simmons, Carrie Fisher, Katey Sagal, Billy Crystal, Jeff Goldblum, Larry David, and Bea Arthur. I am delighted to enjoy delicious Jewish cuisine such as challah bread, latkes, blintzes, and matzo balls. You bet your tuchas I'm Jewish, and I am eager to show my pride in my faith and culture! If you feel the same way, be sure to get this boffo design on your favorite tee shirt, hoodie, soccer tee, or baseball tee to be the most fashionable of the faithful! Be the smashin' fashion success at the next bar mitzvah or bat mitzvah you attend with this "You Bet Your Tuchas I'm Jewish" tee exclusively from Chicago's most kosher tee shirt shop, Strange Cargo!
Have questions about our shirts? Need details on sizing and fit? Get all your questions answered right here.
We offer USPS Priority Mail shipping for all orders to anywhere within the United States. Want to know when you'll receive your stuff or how we ship? All is revealed in our frequently asked questions.