Wrigleyville Chicago Cheers Men's Shirt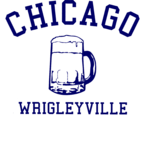 About This Shirt

There is so much more to do in Wrigleyville than going to see a Cubs game. However, seeing a Cubs game is pretty spectacular. When you see the Cubbies play you have a good chance of seeing Aramis Ramirez slamming homers into the bleachers, Alfonso Soriano stealing bases, and Marlon Byrd fighting seagulls in the outfield. But maybe sitting in the sun with a rapidly warming beer, watching baseball and stepping on peanut shells is not your cup of tea. There are still plenty of wonderful things to do in Wrigleyville! Enjoy the original sounds of street musicians on Addison and Sheffield. Head down to Trader Todd's for tikis and karaoke. Looking for good food? Cruise a couple blocks down from Wrigley Field and get some delicious food from Cozy Noodle or grab the week's special slice from Ian's Pizza! No matter what the weather is like, it is always the season for bar crawls in Wrigleyville, and this tee is perfect for whatever drinking event you are participating in! Whether it is Christmastime, St. Patrick's Day or a Saturday in June, there are always fun bar events around Clark and Addison! Cheers, Wrigley! Let's slam some Old Styles and party on Clark Street!
Have questions about our shirts? Need details on sizing and fit? Get all your questions answered right here.
We offer USPS Priority Mail shipping for all orders to anywhere within the United States. Want to know when you'll receive your stuff or how we ship? All is revealed in our frequently asked questions.