Windy City Cruiser Men's Shirt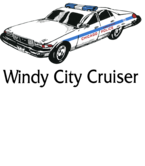 About This Shirt

So we all have our differing opinions on the police. Some of us see them as the helpful protectors of the Windy City. Some of us side with Ice-Cube, MC Ren, DJ Yella, Dr. Dre and Eazy-E in our opinion of the police. No matter what your opinion of the long arm of the law is, you cannot neglect that these men and women stand in the line of fire everyday to protect the streets of the Windy City. There is a long history attached to the Chicago Police Department. With a history that stretches back to 1837, the Chicago Police Department is one of the oldest active police forces in the world. The Chicago police force has over thirteen hundred officers on duty protecting all corners of the City of Big Shoulders. Though there is a lot of criticism over how they handled the Democratic National Convention of 1968, they now proudly patrol the City of Big Shoulders with over two-hundred and seventy beats roaming the Chicago streets to serve and protect the citizens of Chi-Town. Show your support for the men and women of the CPD with this Windy City Cruiser tee shirt design from Strange Cargo (just don't wind up in the back of one of these bad boys).
Have questions about our shirts? Need details on sizing and fit? Get all your questions answered right here.
We offer USPS Priority Mail shipping for all orders to anywhere within the United States. Want to know when you'll receive your stuff or how we ship? All is revealed in our frequently asked questions.