We All Have Our Ups & Downs! Men's Shirt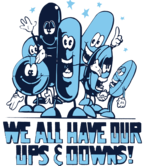 About This Shirt

Life is one wacky, turbulent roller coaster of emotions. We all have our ups and downs, so it's a good thing that there are pharmaceuticals to keep us in control of that frightening amusement park ride of insanity. When life gets you crazy, look to your friends Dilaudid, Valium, Adderall, Ritalin, Xanax, Codeine, Ambien, and other uppers and downers that keep your emotions in check. Thanks to advancements in the medical community, you can live your life like the glamorous Elizabeth Taylor, the fabulous Liza Minnelli, or the completely insane Gary Busey. You may have a breakdown like Jessie Spano, but instead of crying about your irrational emotional behavior, just reach for Mother's Little Helper to get you through the night. If life gets too out of control, share your ups and downs with the fine staff of the Betty Ford Center. Life has its share of ups and downs and you want to look fashionable while dealing with them. Lucky for you, Strange Cargo has this great tee shirt with all of your friends on it to remind you there is a silver lining to every storm cloud. Get this great design on a variety of great tee shirts, hoodies, and tank tops. Take advantage of our custom lettering option to get your favorite dolls written on the back of your shirt! Life has it's ups and downs, but that doesn't mean you should look shabby while dealing with them! Make a statement with this great design.
Have questions about our shirts? Need details on sizing and fit? Get all your questions answered right here.
We offer USPS Priority Mail shipping for all orders to anywhere within the United States. Want to know when you'll receive your stuff or how we ship? All is revealed in our frequently asked questions.