Walter is Pure Sweetness Men's Shirt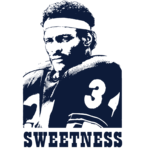 About This Shirt

After the departure of Gale Sayers, the Bears future looked bleak. Then, in 1975, the Chicago Bears acquired Walter Payton and everything changed. "Sweetness" was named Pro Bowl MVP in 1977 and, despite suffering from the flu, set a record for rushing 275 yards on 40 carries (take that, OJ Simpson!). Just as it seemed as though the Bears could not be gaining any more momentum, 1982 brought the game-changer: Mike Ditka. From that point on, it was all about moving Jim McMahon, William "The Fridge" Perry and the rest of the boys to a Super Bowl Championship. When the Bears showed up at Super Bowl XX, the New England Patriots were terrified of Payton; so terrified, in fact, that they made sure that Payton never scored. Walter Payton possessed the grace of a gazelle, the drive to attain a Super Bowl championship, and a personality that can only be described as "Sweetness." Order this custom Walter Payton shirt from Strange Cargo and boldly declare your adoration for one of the greatest Chicago Bears ever to grace Soldier Field. Walter Payton was not just another running back, he was the stutter-stepping Chicago Bears superstar that made one thing clear: "Never Die Easy." He showed it on the field, now you show your love for Walter Payton on a custom tee shirt.
Have questions about our shirts? Need details on sizing and fit? Get all your questions answered right here.
We offer USPS Priority Mail shipping for all orders to anywhere within the United States. Want to know when you'll receive your stuff or how we ship? All is revealed in our frequently asked questions.