Twisted Sister Band Logo Mens Shirt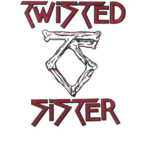 About This Shirt

WIth his crimped blonde wig, bright, glittery eye make-up, thick, red flushes of blush along his cheeks, and smeared lipstick, Dee Snider brought the thunder with Twisted Sister in the eighties. Songs like "We're Not Gonna Take It" brought a defiance to glam metal and roiled the blood of any teenager fed up with the uptight ways of their rigid parents. When not rocking stadiums and releasing glam metal hits, Dee Snider was fighting for freedom of expression. Going up against Tipper Gore and the PMRC in a Senate hearing on "porn music," Dee Snider joined experimental rock genius Frank Zappa and down home country boy John Denver to fight for freedom of speech and freedom of expression in music. His testimony in these Senate hearings showed that "We're Not Gonna Take It" was more than a catchy song that played on the radio and MTV; it was an anthem to stand by. Show your support for glam metal, fright wigs, defiance, and freedom of speech with this great Twisted Sister design on your favorite tee shirt, tank top, or hooded sweatshirt. Never stop rocking and never stop fighting for your rights with this great custom tee shirt from Strange Cargo.
Have questions about our shirts? Need details on sizing and fit? Get all your questions answered right here.
We offer USPS Priority Mail shipping for all orders to anywhere within the United States. Want to know when you'll receive your stuff or how we ship? All is revealed in our frequently asked questions.