Truckin' For Jesus Mens Shirt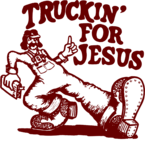 About This Shirt

In 1968, R. Crumb used his position as the foremost underground, counterculture, independent comic artist to inspire an entire generation with his art. Through his work in Zap Comix, his iconic characters such as Fritz the Cat, Mr. B. Natural, Flakey Foont, Whiteman, Mr. Snoid, and the Devil Girl began to become a significant part of both underground culture and mainstream popular culture. However, the most iconic of them all is from the debut issue of Zap Comix; the most iconic of all is the image of "Keep On Truckin," the image that inspired an entire generation of hippies and revolutionaries to keep moving and keep truckin' no matter what the situation may be. After Keep on Truckin's debut, everyone jumped on the bandwagon and began making bootlegged images of Crumb's work; this tee shirt is birthed out of that great copying and reprinting of Keep on Truckin' variations. If you're going to keep on truckin' through life, then you had better do it with the Lord. Show the world who you are truckin with and truckin for with this custom tee shirt, inspired by the iconic work of R. Crumb, exclusively from the Windy City's hippest custom tee shirt shop, Strange Cargo.
Have questions about our shirts? Need details on sizing and fit? Get all your questions answered right here.
We offer USPS Priority Mail shipping for all orders to anywhere within the United States. Want to know when you'll receive your stuff or how we ship? All is revealed in our frequently asked questions.