Tootsie's Rollers Men's Shirt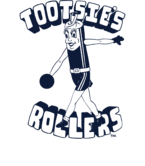 About This Shirt

Ladies, ladies, ladies! It's ladies' league night and where are you and your girls? Dominating the lanes like Laverne and Shirley, that's where! You're out giving league bowlers like Al Bundy, Dan Conner, Fred Flintstone, Barney Rubble, the Dude, Walter, and Donny a run for their money with your sweet bowling skills. Pick up those spares, ladies, and show that there is more to turkeys than cooking them for a Thanksgiving dinner. You're sweet, you're skilled, and you are ready to show the competition at your local bowling alley that you mean business when you roll up to roll in this custom "Tootsie's Rollers" design exclusively from Chicago's sportiest tee shirt shop, Strange Cargo. With this great design on your favorite shirt, everyone will quake in their rented bowling shoes at the mere sight of you. With this great design on your bowling threads, the pins will knock themselves over due to their fear of your powerful bowling technique. Your lane savvy, your pin-pummeling moxie, and your stylish bowling team will send out a shock wave of intimidation throughout the building, so be ready to handle the strong reaction to your powerful presence! Get this great design exclusively from Strange Cargo today and get ready to dominate the lanes!
Have questions about our shirts? Need details on sizing and fit? Get all your questions answered right here.
We offer USPS Priority Mail shipping for all orders to anywhere within the United States. Want to know when you'll receive your stuff or how we ship? All is revealed in our frequently asked questions.