Thinkin' Lincoln men's Shirt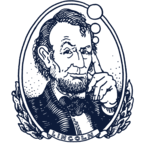 About This Shirt

With all the troubles he faced in his life and in his Presidential career, it is clear that Abraham Lincoln had a lot to ponder. Could he be thinking about the divided nation he must lead? Could he be thinking about the destruction caused by the bloody and brutal Civil War? Is he thinking about penning the Emancipation Proclamation and bringing equality and freedom to a ravaged, war-torn nation? Could he possibly be thinking about writing the Gettysburg Address or how to approach the Lincoln-Douglas debates. Perhaps he is wondering if he made the proper reservations for a night at Ford's Theater. Whatever he is pondering, it is definitely an important subject. Get this great image of our sixteenth President on your favorite tee shirt, tank top, or baseball tee in order to show that you love our most thoughtful, introspective President, Abraham Lincoln. You can imagine what deep topic Abe Lincoln is thinking about, or you can take advantage of our custom lettering to add text to your shirt to write out what Abe is thinking about it. Get this exclusive design from the Land of Lincoln's favorite tee shirt shop, Strange Cargo, and ponder deep thoughts with Lincoln.
Have questions about our shirts? Need details on sizing and fit? Get all your questions answered right here.
We offer USPS Priority Mail shipping for all orders to anywhere within the United States. Want to know when you'll receive your stuff or how we ship? All is revealed in our frequently asked questions.