The Pinheads Men's Shirt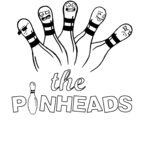 About This Shirt

When you head out to the lanes on a Friday night, there is a short list of things that are important: booze, shoes, strikes, and upsetting someone's game with your sweet bowling skills. If you love going out on the weekend and spending hours on the lanes with your buddies, you need a Pinhead tee-shirt from Strange Cargo. Roll up to Diversey Rock and Bowl or Lucky Strikes in this bad boy and let the competition know that you mean business! This design will let everyone in the lane know that you are serious about the game, that you bring your own shoes, you provide your own beautifully polished ball, and that you have come to win. There will be nothing but turkeys on your scoring sheet as you and your bowling buddies down frosty bottles of Budweiser right in the sacred bowling area, scarf down a plastic tray of scalding hot nachos, and arc a thirteen pound bowling ball into a group of weak, helpless bowling pins. That trophy is almost yours, friend. Can you taste it? Of course you can, because you know a championship goes hand-in-hand with friendship, the kind of friendship only evenings of bowling can create.
Have questions about our shirts? Need details on sizing and fit? Get all your questions answered right here.
We offer USPS Priority Mail shipping for all orders to anywhere within the United States. Want to know when you'll receive your stuff or how we ship? All is revealed in our frequently asked questions.