Tap That Ass Mens Shirt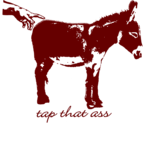 About This Shirt

Don't go apeshit. There is no need to get crazy, to get out of control, or to make a scene. Sometimes subtlety is your greatest ally when making a move on that particularly lovely person who has been giving you the eye all evening at the bar. Instead of becoming a rabid animal over the possibilities that the night holds for you while guzzling drinks at John Barleycorn or Goose Island, simply tap that ass. There is a time and a place for over-the-top behavior; be sure to let the person you have been eyeing for the past hour know that you mean business by taking them home, showing them a pleasant night, and tapping that ass. A great way to make your intentions known is to wear this fashionable "Tap That Ass" design on your favorite tee shirt so that there is no question about where you stand. This custom, the original design is a Strange Cargo exclusive and you do not want to hit the town without this gem plastered across your chest. So be sure to add this to your cart immediately so that you can spend more time mixing drinks instead of signals when you hit the bar tonight.
Have questions about our shirts? Need details on sizing and fit? Get all your questions answered right here.
We offer USPS Priority Mail shipping for all orders to anywhere within the United States. Want to know when you'll receive your stuff or how we ship? All is revealed in our frequently asked questions.