Sweep The Leg Johnny! Mens Shirt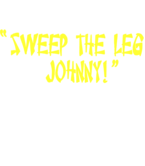 About This Shirt

Rocky Balboa may have been the "Eye of the Tiger," but Daniel LaRusso was the best around. In the classic movie, "The Karate Kid," we all learned a valuable lesson: there is more to martial arts than brutal ass beatings, different color belts, ninjas, using compact discs as throwing stars, Teenage Mutant Ninja Turtles, Chuck Norris, roundhouse kicks, Chun-Li, Street Fighter, Mortal Kombat, Jackie Chan, Bruce Lee, nunchucks, katana swords, karate chops, Master Shredder and the Foot Clan, "Surf Ninjas," and Ninja Gaiden. No, we learned that karate is about so much more. Karate is about getting your ass kicked, having a Gardner teach you the ways of karate, forming a father and son bond with the Gardner teaching you karate, and then doing the "Crane" move to defeat your enemy at the karate tournament. However, though karate may be about believing in yourself like Daniel, sometimes it's about playing dirty like Johnny on the Cobra-Kai squad. Is your opponent hurt? Take advantage of it! Cobra-Kai karate is about winning at any cost; that victory-hungry spirit is embodied in this custom tee from Chicago's most-kickass tee-shirt shop! Get this custom tee today and show the world where you stand in the battle between Daniel and Johnny!
Have questions about our shirts? Need details on sizing and fit? Get all your questions answered right here.
We offer USPS Priority Mail shipping for all orders to anywhere within the United States. Want to know when you'll receive your stuff or how we ship? All is revealed in our frequently asked questions.