Stupid Script Mens Shirt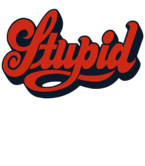 About This Shirt

Sometimes, you have to man up and admit that you are not the brains of the operation. It's okay to make this confession to the world; there are plenty of lovable characters in popular culture that were, seriously, not the sharpest knife in the drawer. Though his absence would have meant that everyone would have gotten off of the island a lot sooner, "Gilligan's Island" would have been much less entertaining without everyone's favorite "Little Buddy." If Pinky had not been in the same lab as Brain, who would have "Narf" -ed through failed plans of world domination? I think that we all can agree that when it came to brains, Wilma Flintstone and Betty Rubble sure out-witted Fred and Barney at every turn. Michael Scott may have been in charge of his branch of Dunder Mifflin, but he was certainly not the brightest guy (lovable, but not bright). Do not find shame in your intellectual status, take pride in it (and warn others of it) with this tee shirt from Chicago's finest custom tee shirt shop, Strange Cargo. If you're in a Pinky and the Brain pairing, it is important to distinguish which is which (so be sure to bounce over and order the "I'm With Stupid" shirt as well).
Have questions about our shirts? Need details on sizing and fit? Get all your questions answered right here.
We offer USPS Priority Mail shipping for all orders to anywhere within the United States. Want to know when you'll receive your stuff or how we ship? All is revealed in our frequently asked questions.