Strange Cargo- Surly Sea Captain Mens Shirt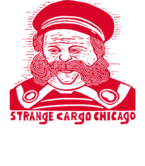 About This Shirt

Arrrrgh! Show your love for Chicago's favorite tee shirt shop with this custom Strange Cargo design on your favorite shirt. The city by the lake deserves a damn good nautical design. This captain of custom shirts joins the ranks with Captain Ahab, Captain Nemo, Captain Hook, Captain Jack Sparrow, Captain Crunch, Captain Ron, Captain Stubing, and Captain Kangaroo. Sailing the high seas of custom tee shirts, navigating the chilly Chicago city streets, this captain knows no fear (as a mustache that amazing would keep any dangers at bay). Keep your coasts, keep your oceans, keep your waves; this captain knows that real seamen stick to the dangers of the Great Lakes. Set your sails for original designs; get this tee shirt today to make a fashionable splash at your next boat party!
Have questions about our shirts? Need details on sizing and fit? Get all your questions answered right here.
We offer USPS Priority Mail shipping for all orders to anywhere within the United States. Want to know when you'll receive your stuff or how we ship? All is revealed in our frequently asked questions.