Star Wars Bounty Hunters men's Shirt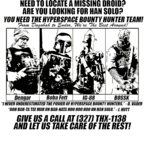 About This Shirt

Got a problem that needs solved in a galaxy far, far away? Han Solo take your money and run? Are these the droids you are looking for? Sometimes there are jobs that cannot be handled by your average scoundrel. In fact, you need someone ruthless and cunning to solve such a problem, someone who knows that Han Solo is the kind of cunning bastard who will avoid detection and hide in ejected trash. Luckily the Hyperspace Bounty Hunter Team is ready to take action! With reliable service and quick results, this group of rough and tough bounty hunters is ready to tackle any problem in any corner of the galaxy. Boba Fett, Dengar, Bossk, and IG-88 are a group of professionals who are not to be fucked with. Used by big names like Darth Vader and Jabba the Hutt, this team is no joke. This Strange Cargo original celebrates the underrated characters (or perhaps "overrated" depending on how you feel about Boba Fett) of "The Empire Strikes Back." Get this shirt today to show your nerd pride, to promote this group of badasses, and to prepare yourself for J.J. Abrams's "Star Wars - Episode VII" that has the internet all abuzz!
Have questions about our shirts? Need details on sizing and fit? Get all your questions answered right here.
We offer USPS Priority Mail shipping for all orders to anywhere within the United States. Want to know when you'll receive your stuff or how we ship? All is revealed in our frequently asked questions.