So Long Captain Beefheart Mens Shirt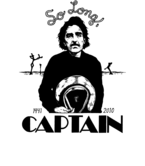 About This Shirt

All good captains deserve a proud, honest, and heartfelt tribute to honor their life spent guiding their crew through stormy weather. In the worlds of experimental rock, blues-rock, psychedelic rock, protopunk, spoken world, and progressive rock, Captain Beefheart was a bold captain sailing to new shores of experimental music. Influencing and furthering the New Wave, punk, and alternative music genres with his hard work and dedication to his art, his contributions to the world of new and interesting forms of music. Working with musical genius Frank Zappa, he dedicated himself to a long and inventive career in music and created classic albums such as "Safe As Milk," "Mirror Man," "Lick My Decals Off, Baby," "Ice Cream for Crow," and his magnum opus, "Trout Mask Replica." With all of the genius and inspiration he gave to the music world, it is only appropriate that we send him off with our love and respect with this custom tee shirt exclusively from Strange Cargo. Get Captain Beefheart on your favorite tank top, tee shirt, baseball tee shirt, or hooded sweatshirt today and show the world your appreciation for genius, talent, and beauty.
Have questions about our shirts? Need details on sizing and fit? Get all your questions answered right here.
We offer USPS Priority Mail shipping for all orders to anywhere within the United States. Want to know when you'll receive your stuff or how we ship? All is revealed in our frequently asked questions.