Shocker Mens Shirt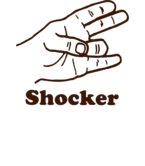 About This Shirt

It is always best to save the best for last. Like the encore at the end of a concert, the teaser scene at the end of the credits of a movie, or the grand finale of fantastic fireworks show, the shocker is the piece de resistance that will add that special element of surprise to any bedroom activity. She may suspect a donkey punch, the Saran Wrap will definitely clue her into the oncoming a Hot Carl you have in mind, and a casual trip to the bathroom will let her know that you have a blumpkin on the brain. However, she will never expect something as shocking and obvious as putting two in the coot and one in the poot. Give her the shock of her life with the classic two in the pink, one in the stink with this exclusive dirty design from The Windy City's classiest custom tee shirt shop, Strange Cargo. This design looks great on a variety of tee shirts, tank tops, baseball tees, and hoodies, so your only limitation is your fashion imagination. So surprise your special lady with this original tee shirt and surprise her later in the evening with a romantic two in the goo, one in the poo!
Have questions about our shirts? Need details on sizing and fit? Get all your questions answered right here.
We offer USPS Priority Mail shipping for all orders to anywhere within the United States. Want to know when you'll receive your stuff or how we ship? All is revealed in our frequently asked questions.