See me Roll me Smoke me Men's Shirt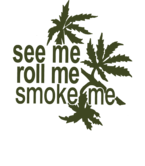 About This Shirt

Simple instructions. Follow these simple directions for a great day. Bust out that dank weed and your Zig-Zag papers, that you purchased "for tobacco use only," and spark that joint for a day of relaxation, cottonmouth, giggling, and the munchies. Be sure to load up your iPod with great bootlegs of Phish, the Grateful Dead, Pink Floyd, Led Zeppelin, Jerry Garcia, and Willie Nelson. Bust out "Cheech and Chong's Up In Smoke," "Fear and Loathing In Las Vegas," "Dazed and Confused," "Grandma's Boy," and all of your seasons of "Weeds" lined up for a great gigglefest marathon. You absolutely do not want to forget the buffet of junk food: Dorito's, Kit-Kat Bars, Skittles, Ben and Jerry's Chunky Monkey, Funyuns, and Corn Nuts. No matter how you spend your time, no matter what you do, the important thing is that you follow these three rules when you see some Mary Jane: See Me. Roll Me. Smoke Me. Do these three things and you are guaranteed to have a great day hanging out with great ganja. So get this custom design exclusively from Strange Cargo and let others know the secret to a great day with roach clips, joints, killer cannabis, and blunts.
Have questions about our shirts? Need details on sizing and fit? Get all your questions answered right here.
We offer USPS Priority Mail shipping for all orders to anywhere within the United States. Want to know when you'll receive your stuff or how we ship? All is revealed in our frequently asked questions.