Say No To Drugs Men's Shirt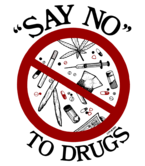 About This Shirt

The 1980s were a strange decade full of interesting hair styles, tight spandex clothing, that New Wave music, and, of course, more drugs than we as a civilized society could have ever imagined. There were so many drugs, something needed to be done and needed to be done quickly. The world needed a hero, just as we needed Elizabeth I after Bloody Mary or Superboy after Superman died. Luckily, we had a hero. We had Nancy Reagan, and she gave us the three words that kept our civilization from crumbling into the horror of a new dark age: "Just Say No." She made sure to reach us through appearances on "Diff'rent Strokes" and "Dynasty," making those "very special episodes" even more very special. She empowered us with "Just Say No," and that gave us the ability to stay away from marijuana, cocaine, heroin, crack, PCP, and crank. She taught us that each drug is a gateway drug into a gateway drug into a nightmare. In 1987, she knew we were going to need an anthem, something catchy to remind us that drugs were around every corner and we did not want them. Luckily, LaToya Jackson was there to record that song, "Just Say No." With a lot of work and a little luck, we all survived the very special episode that is our lives. Keep saying no, everyone, and help Nancy's dream come true. So sport this shirt around town to remind yourself and others that you want to win the War on Drugs!
Have questions about our shirts? Need details on sizing and fit? Get all your questions answered right here.
We offer USPS Priority Mail shipping for all orders to anywhere within the United States. Want to know when you'll receive your stuff or how we ship? All is revealed in our frequently asked questions.