Santa in Sleigh men's Shirt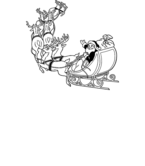 About This Shirt

Oh, Christmastime! A time for presents, ham, the "Charlie Brown Christmas Special," ignoring the warnings of adults and shooting your eye out with a Red Ryder BB gun, bringing Frosty the Snowman to life with an old stove pipe hat, hot chocolate, fruit cake, Bill Murray's yuletide classic "Scrooged," mistletoe, stockings, candy canes, elves, family, and that one guy, Jesus. If you don't care for all of that hooey, you probably believe that Christmas is a time of peace, brotherhood, love, and warmth. If you aren't in either of those camps, you know that the true meaning of Christmas comes down your chimney on Christmas Eve and leaves you a boatload of presents based on your behavior throughout the year (separated into categories "naughty" and "nice.") Yes, you know that Christmas is about Dasher, Dancer, Prancer, Vixen, Comet, Cupid, Donner, and Blitzen. You know that Christmas is about a mythical, magical man who has been portrayed by Tim Allen, John Goodman, Ed Asner, Billy Bob Thornton, and that old guy everyone can't stand from "Jurassic Park." Santa and presents are what Christmas is all about, so celebrate the jolly old elf who brought you your Teddy Ruxpin years and years ago with this custom shirt from Strange Cargo with Santa and his sleigh.
Have questions about our shirts? Need details on sizing and fit? Get all your questions answered right here.
We offer USPS Priority Mail shipping for all orders to anywhere within the United States. Want to know when you'll receive your stuff or how we ship? All is revealed in our frequently asked questions.