Rocktapuss Mens Shirt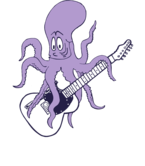 About This Shirt

Rocktapuss is always jamming out with the Funkback Whale and the Rock Lobster in a hot crustacean band. When not making rocking waves underwater, Rocktapuss is often seen jamming out with the ferocious Great White, the elusive Stingray, and other Reel Big Fish. You may catch him at the Great Barrier Reef with E and the rest of the Eels. He can make great punk rock with Flipper and create a ruckus with his friends Country Joe and the Fish. When he's not underwater creating rock music with Blue Oyster Cult, you may catch him above the surface making great new wave with a Flock of Seagulls. Sure he will jam out with Hootie and the Blowfish and various other Phish in the sea, but this chameleon of a musician is just happy to play wherever he's wanted. Show your love of this aquatic musical genius with the Rocktapuss rocking on the front of your favorite tee shirt, tank top, hooded sweatshirt, or baseball tee. Sebastian and Ariel aren't the only ones who can have a rocking good time under the sea, so show that you know what underwater rock and roll is all about with the Jimi Hendrix of the sea on your favorite custom tee.
Have questions about our shirts? Need details on sizing and fit? Get all your questions answered right here.
We offer USPS Priority Mail shipping for all orders to anywhere within the United States. Want to know when you'll receive your stuff or how we ship? All is revealed in our frequently asked questions.