Power Line Nude Mens Shirt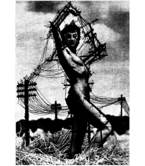 About This Shirt

Sexier than Godzilla! More tantalizing than Mothra! Better gams than Gamera! Look out, world! Here comes a sexy siren ensnared in sizzling power lines ready to seduce your town. Forget the "Attack of the 50 Foot Woman" and "The Amazing Colossal Man," this gorgeous giant will fight through electrifying man-made structures, through dangerous, inclement weather, and through the inevitable attacks from the military to bring her unfathomable sexiness to your town. She will level Tokyo like one of the infamous creatures from Monster Island with her voluptuous curves! She will destroy Manhattan with her banging body. The west coast will have more than earthquakes to worry about when this lovely lady comes to town! Be sure to get this beautiful babe on your favorite tee shirt, tank top, baseball tee, or hooded sweatshirt and sport sexiness wherever you go. This image is a Strange Cargo original, so be sure to wear this exclusive design with pride. With this beautiful broad on your chest, you will certainly be ready for the sexiest, most destructive, and enticing world destruction ever to hit the planet! Be prepared for maximum sexiness and maximum destruction with this beautiful babe ensnared in some sizzling power lines!
Have questions about our shirts? Need details on sizing and fit? Get all your questions answered right here.
We offer USPS Priority Mail shipping for all orders to anywhere within the United States. Want to know when you'll receive your stuff or how we ship? All is revealed in our frequently asked questions.