Old Milwaukee 2 Men's Shirt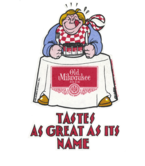 About This Shirt

Pabst Blue Ribbon may boast its blue ribbon from the World's Columbian Exposition World's Fair in 1893, but Pabst's greatest brewing achievement is the delicious Old Milwaukee. This stupendous over-achiever won the gold medal for American Light-Style Lager at the 2008 World Beer Cup. As if that weren't enough of an achievement, Old Milwaukee swept the 2005, 2006, and 2007 Great American Beer Festivals by winning the gold medal. In 2008 it won the silver medal at the Great American Beer Festival. Perhaps there it does not boast the way Pabst Blue Ribbon does because there are far too many accolades to fit on the exterior of one can of beer. With all of the awards it has won, it is clear that the outside of the beer can does not matter; what does matter is the taste that is packed inside the can. Taste buds don't lie; this is a fantastic beer that has won over the United States and beer connoisseurs across the globe. So, be sure to pick up this great vintage transfer on your favorite tee shirt, tank top or hoodie only from Strange Cargo. Show your family and friends that you know good taste when you sport this great design on your chest and remember to enjoy a delicious Old Milwaukee.
Have questions about our shirts? Need details on sizing and fit? Get all your questions answered right here.
We offer USPS Priority Mail shipping for all orders to anywhere within the United States. Want to know when you'll receive your stuff or how we ship? All is revealed in our frequently asked questions.