Nelson Mandela XL Men's Shirt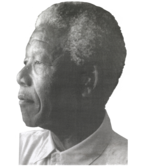 About This Shirt

Nelson Mandela once said, "I learned that courage was not the absence of fear, but the triumph over it. The brave man is not he who does not feel afraid, but he who conquers that fear." If there is a fear within Mandela, it is impossible to see it. The man who was jailed for twenty-seven years for his resistance to the apartheid movement found victory upon released in 1990. Three years later, Mandela was awarded the Nobel Peace Prize for his bravery, persistence, and his dedication to a united, peaceful South Africa. In 1994 Mandela was given the opportunity to change the course of South Africa when he was elected President by the South African people. If courage is the triumph over fear, Mandela personifies it with his steadfast dedication to ending apartheid and creating a better environment for South Africa. Celebrate the life, courage, and perseverance of Nelson Mandela with this extra large image of him on your favorite tee shirt or tank top. Take advantage of our custom lettering section and get your favorite Nelson Mandela quote on the back of your tee shirt so that you and everyone you meet remain inspired by this great world leader.
Have questions about our shirts? Need details on sizing and fit? Get all your questions answered right here.
We offer USPS Priority Mail shipping for all orders to anywhere within the United States. Want to know when you'll receive your stuff or how we ship? All is revealed in our frequently asked questions.