Mike Hunt Mens Shirt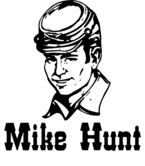 About This Shirt

Mike Hunt is such a stand-up person, but also a person living in a state of dichotomy. Sometimes Mike Hunt is clean-shaven, sometimes Mike Hunt is a little hairy. Sometimes Mike Hunt is presentable, sometimes Mike Hunt is a complete mess. Some people are enamored with Mike Hunt, some people want absolutely nothing to do with Mike Hunt. Mike Hunt is mysterious, bewitching, and polarizing. Some people talk entirely too much about Mike Hunt, some people avoid talking about Mike Hunt entirely. The polar opposite life of Mike Hunt is perplexing and intriguing. Start a conversation about Mike Hunt and draw attention to the two worlds of opposite thinking that Mike Hunt inhabits. Get this great design on your favorite tee shirt from Chicago's classiest tee shirt shop, Strange Cargo, and be the brave one in your group of friends who dares discuss a taboo topic like Mike Hunt. No matter how you think Mike Hunt should be, you are sure to cause a stir with this clever design dedicated to the majesty of Mike Hunt. He is such a handsome fellow, Mike Hunt. He's the perfect gentleman to sport on your favorite tee, and Mike Hunt is guaranteed to liven up any party.
Have questions about our shirts? Need details on sizing and fit? Get all your questions answered right here.
We offer USPS Priority Mail shipping for all orders to anywhere within the United States. Want to know when you'll receive your stuff or how we ship? All is revealed in our frequently asked questions.