Michael Jackson's Thriller Album Cover Mens Shirt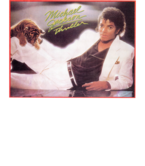 About This Shirt

Music has produced a number of legends. Names like John, Paul, George, Ringo, Mick, Keith, Madonna, Cher, and Elvis have all become so familiar they do not even need their last names. However, there is only one name that anyone could say after the "Thriller" album dropped in November of 1982. From that day forward, Michael Jackson was known by the title he deserved, "The King of Pop." "Thriller," "Bad," and "Dangerous" each produced seven Top 40 hits. In 1984, Michael Jackson became the first person to win a record eight Grammy Awards in one year, the most ever won by a single artist). "Billie Jean" was the first video by an African-American artist to air on MTV. Songs like "Thriller," "Billie Jean," "Bad," "Beat It," "Rock With You," "Black and White," "Dirty Diana," "Man In the Mirror," "Wanna Be Startin Something," "The Girl Is Mine," "Smooth Criminal," "Remember The Time," and "Heal The World" are well-known to everyone. The red jacket, the rhinestone glove, Bubbles the Chimp, the Moonwalk, and those highwater pants are all a part of the iconic Michael Jackson fashion. This classic Michael Jackson transfer is a great, fashionable way to celebrate the King of Pop. This transfer looks divine on a variety of tee shirts, tank tops, baseball tees, and hooded sweatshirts, so choose the one that best celebrates the life and career of Michael Jackson, the undisputed King of Pop.
Have questions about our shirts? Need details on sizing and fit? Get all your questions answered right here.
We offer USPS Priority Mail shipping for all orders to anywhere within the United States. Want to know when you'll receive your stuff or how we ship? All is revealed in our frequently asked questions.