Marx Brothers men's Shirt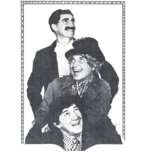 About This Shirt

Alongside greats like Charlie Chaplin and Buster Keaton, the Marx Brothers helped shape the great American comedy. Straight out of vaudeville, Groucho, Harpo, and Chico brought the laughter to the American talkie with great films like "Duck Soup," "Animal Crackers," "At the Circus," "A Night at the Opera," and "A Day At The Races." This trio has remained so influential that they inspired the great comedic trio of Wacko, Yakko, and Dot on "Animaniacs." They even inspired the greatest rock band of all, Queen, to name two of their greatest albums after two of their most famous films, "A Night at the Opera" and "A Day at the Races." Whether you love "Animal Crackers" or still want to debate the existence of Sainty Claus, your adoration and appreciation of the Marx Brothers is unquestionable. Get this great vintage transfer with Groucho, Chico, and Harpo Marx on your favorite tee shirt or hoodie, exclusively from the Windy City's finest custom tee shirt shop, Strange Cargo. Immortalize the Marx Brothers and their classic characters such as Otis B. Driftwood, Stuffy, Dr. Hugo Z. Hackenbush, Faker Englund, Chicolini, and The Merchant of Weiners with this great vintage Marx Brothers transfer exclusively from Strange Cargo.
Have questions about our shirts? Need details on sizing and fit? Get all your questions answered right here.
We offer USPS Priority Mail shipping for all orders to anywhere within the United States. Want to know when you'll receive your stuff or how we ship? All is revealed in our frequently asked questions.