Marijuana Pickers Local 13 Men's Shirt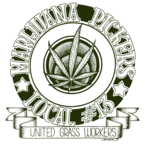 About This Shirt

Let's salute the men and women who get out in those marijuana crops everyday and get their hands sticky with resin, bake their skin in the hot sun, and harvest the finest cannabis for you to pack into your bong. Let's stand up and pack a pipe full of Mary Jane for the men and women on the Marijuana Pickers Local 13 who get out in those fields and make sure that only the finest bud is picked for your stash. These are the hard-working men and women who keep an eye out for the freshest bud and work to keep your stash a potent and seed-free bag of happiness. It is the labor of these fine individuals that keeps you in ganja goodness so you can enjoy dancing with Mary Jane for days on end. Yes, without these fine folks your afternoons watching "Half-Baked," reading High Times Magazine, and listening to Grateful Dead bootlegs would be a lot less mellow and peaceful. So, get this custom tee from Strange Cargo and show the world that you support the marijuana pickers of the the world who make this fine crop available to the public. Get it on your favorite tee, tank or hoodie and let it be known that you stand with these fine people who labor for the dankest weed.
Have questions about our shirts? Need details on sizing and fit? Get all your questions answered right here.
We offer USPS Priority Mail shipping for all orders to anywhere within the United States. Want to know when you'll receive your stuff or how we ship? All is revealed in our frequently asked questions.