Let's Get Ready To Stumble Wrigleyville Men's Shirt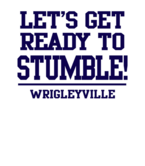 About This Shirt

If there is one adjective that truly describes Wrigleyville it is "class". We are a classy bunch on the North Side of the Windy City in our Cubs jerseys, our cans of Old Style, our partying in the middle of Clark Street after the game, and our ability to handle more booze than any other sports fan. We show up at 1060 West Addison ready to rumble, ready to drink and ready to stumble. We will stumble into Wrigley Field, make our way to find the rest of the bleacher bums, drink through the game, stumble through "Take Me Out to the Ball Game", drunkenly pose with the Ernie Banks statue, and then stumble right out of the game and down Clark Street to find shots of whiskey, frosty beers and new friends to spend a booze-fueled evening with. We are not ashamed, we are proud. Stumbling through Wrigleyville is a proud tradition, handed down to every Chicago Cubs fan. Let's get ready to stumble through the crowded streets of the North Side of Chicago and cheer the Chicago Cubs to victory with drunken battle cries of, "Go Cubs! Go! Go Cubs! Go!" Hey, Chicago, what do you say? Let's stumble to the Cubs today!
Have questions about our shirts? Need details on sizing and fit? Get all your questions answered right here.
We offer USPS Priority Mail shipping for all orders to anywhere within the United States. Want to know when you'll receive your stuff or how we ship? All is revealed in our frequently asked questions.