Let's Get It On Men's Shirt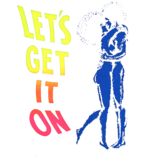 About This Shirt

You have done a lot of work to make a special evening for you and your lover. The mood is right. You've got your Marvin Gaye albums ready to go on your stereo. You've got all of your candles lit to set the right mood. The bed has been covered with rose pedals and the fire in the fireplace is roaring and ready for a night of romance. You have everything set up for a night of making sweet, sweet love to your baby. All you need to maintain this sexy mood is a great tee shirt. You want to look fashionable for that special man or woman who is walking into your love shack, so you are going to want a great tee shirt. Don't mix words, mix drinks; get this great Marvin Gaye-inspired shirt exclusively from Strange Cargo on your favorite (and easy to remove) tee shirt or tank top to ensure that your intentions for the evening are crystal clear. Don't let your time preparing for this special evening by running the risk of your intentions becoming unclear. Get this sexy, stylish shirt today so you and your baby can move onto the most important part of this special evening: getting this shirt from you to the floor.
Have questions about our shirts? Need details on sizing and fit? Get all your questions answered right here.
We offer USPS Priority Mail shipping for all orders to anywhere within the United States. Want to know when you'll receive your stuff or how we ship? All is revealed in our frequently asked questions.