Knuckle Sandwich Mens Shirt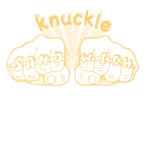 About This Shirt

At the Badass, Toughness Motherfuckin' Deli, there's only one thing on the fucking menu: A Knuckle Sandwich! The guys behind the counter know how to make a pretty powerful one, so watch the fuck out! Steven Seagull can fix up a proper knuckle sandwich that will leave you fucking toothless. Mike Tyson will serve you a knuckle sandwich with a Diet Coke and a slice of your own goddamn ear. Bruce Willis, a veteran at the Badass, Toughness Deli, will use your own fists to give you a knuckle sandwich (and if you happen to be a Eurotrash terrorist like Hans Gruber, God help you). Chuck Norris will destroy you with his particularly bloody variation of the knuckle sandwich (since Chuck Norris's fists are just two, giant knuckles that will split your skull like a fucking peanut shell). Let's not forget the international specialty of Dolph Lundgren's knuckle sandwich that will break you. No matter who you like to prepare a nice and bloody knuckle sandwich, you have to support the masters who make it particularly special. Get this knuckle sandwich design on your favorite shirt, exclusively from Windy City's seriously badass custom tee shirt shop, Strange Cargo.
Have questions about our shirts? Need details on sizing and fit? Get all your questions answered right here.
We offer USPS Priority Mail shipping for all orders to anywhere within the United States. Want to know when you'll receive your stuff or how we ship? All is revealed in our frequently asked questions.