King Tut men's Shirt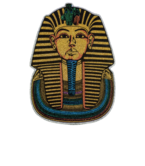 About This Shirt

Though Egypt boasted famous rulers such as Ramses the Great, Nefertiti, Ptolemy II, Cleopatra VII, and Akhenaten, the most famous ruler of all is the boy king, Tutankhamen. King Tut ruled for ten years before his mysterious death, but the discovery of his tomb was enough to spark a global interest in Egyptology, caused man's imagination to run wild with the idea of the Curse of the Pharaohs, and inspired comedic genius Steve Martin to write the great song "King Tut." His rule over Egypt began in 1333 BCE, but his legacy stretched for centuries and artifacts related to his life are the most-visited when traveling to different museums around the world. Howard Carter's experience with the urban legend of the Curse of Tutankhamen went on to inspire our fear of monstrous mummies such as the horrorshow monster portrayed by Boris Karloff. However Tutankhamen grips your imagination be sure to celebrate ancient history with this great King Tutankhamen shirt exclusively from Strange Cargo. This ancient pharaoh's mask looks great on a variety of tee shirts, tank tops, and hooded sweatshirts so you can best display your love for pharaohs, pyramids, the Great Sphinx, and all things related to the gripping subject of Egyptology.
Have questions about our shirts? Need details on sizing and fit? Get all your questions answered right here.
We offer USPS Priority Mail shipping for all orders to anywhere within the United States. Want to know when you'll receive your stuff or how we ship? All is revealed in our frequently asked questions.