It's My Birthday, Buy Me a Drink! Men's Shirt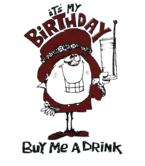 About This Shirt

Subtlety is for chumps. It is your birthday; you deserve a drunken, rambunctious, almost embarrassing celebration of the day you hurdled into this world. A birthday is a reason to drink, so drink heavy and drink a lot. Your birthday is not complete without margaritas, Jager bombs, martinis, rum and cokes, gin and tonics, and vodka and Red Bulls. Of course, if there is one thing birthdays are all about, it shots! Line up shots of Jose Cuervo Gold, Jagermeister, Svedka, Jack Daniels, Jim Beam, and Everclear. Frosting-coated birthday cakes, a blaze of candles, piles of presents, and pleasant conversation are all well and good for those squares who prefer to have quiet birthdays consumed by banal conversation and tame enthusiasm. Celebrate your birthday like a god! Party like you are still in college! Get up on the bar and dance, do body shots of vodka off of someone you do not even know, lose your shirt, make a scene, get arrested! It's your birthday and you deserve to cut loose, get crazy, get wasted and make memories you will never remember. When your birthday rolls around be sure to pick up this custom tee from Strange Cargo to remind everyone in the bar that it is your special day, and they owe you.
Have questions about our shirts? Need details on sizing and fit? Get all your questions answered right here.
We offer USPS Priority Mail shipping for all orders to anywhere within the United States. Want to know when you'll receive your stuff or how we ship? All is revealed in our frequently asked questions.