Irish Whiskey Makes Me Frisky Mens Shirt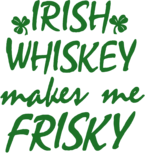 About This Shirt

Why be coy when you can get right to the point? On Saint Patrick's Day, there is only one objective: getting to the pub and celebrating Irish culture with Irish car bombs, Michael Collins Single Malt, Guinness, Bailey's, and never-ending plates of cabbage and corned beef! With a busy drinking schedule like that, you cannot be bothered with the trouble of working through the drunken haze to think of a witty pick-up line. Saint Patrick's Day in Chicago is about being bold and letting your feelings be known in a direct fashion. Why not make that direct fashion fashionable with this "Irish Whiskey Makes Me Frisky" tee shirt design from Strange Cargo. After a few green beers and a couple pints of Guinness, you will not be able to think of a witty Irish pun about how she should have drinks with you too (get it? U2!) Don't look like the Lord of the Dunce in front of the guy or girl you spy across the bar, looking all cute in their shamrock shades, tight green leggings, and novelty, over-sized leprechaun hat. Look smooth. Hearts don't need a language, but sometimes they need a clever tee shirt and an Irish car bomb to get the conversation started. So fall in love this Saint Patrick's Day (or at least benefit from the luck of the Irish) with this custom tee from Strange Cargo!
Have questions about our shirts? Need details on sizing and fit? Get all your questions answered right here.
We offer USPS Priority Mail shipping for all orders to anywhere within the United States. Want to know when you'll receive your stuff or how we ship? All is revealed in our frequently asked questions.