I'm Your Density Mens Shirt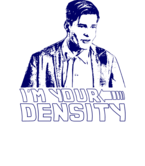 About This Shirt

Save the Clock Tower with this great Crispin Glover tee shirt. He's your density...wait, destiny. George McFly needs to get Lorraine Baines to the dance or all hell will break loose in the future. If they don't get to the dance, how will the world ever get the sweet, puffy vested, time-traveling Marty McFly? Well, if it weren't for Marty, there wouldn't be the necessity to get his father and mother together at the dance as he wouldn't have foolishly pushed his dad out of the way of his grandfather's car.
Already, we've said too much...and have gotten confused with all of the time-traveling and who is related to whom.
Strange Cargo knows how the future needs to be, that's why you need to get yourself this great original "I'm Your Density" design on your favorite tee shirt as soon as possible. With this great tee, you will look sweet as you approach 88 miles per hour in your DeLorean (which will need some plutonium from Libya or a well-timed lightning strike to hit 1.21 gigawatts). Stand up to Biff Tannen, make rock and roll history, and get crazy with Doc Brown with this great "Back to the Future" tee-shirt exclusively from Strange Cargo.
Have questions about our shirts? Need details on sizing and fit? Get all your questions answered right here.
We offer USPS Priority Mail shipping for all orders to anywhere within the United States. Want to know when you'll receive your stuff or how we ship? All is revealed in our frequently asked questions.