Illinois State with Chicago Flag Men's Shirt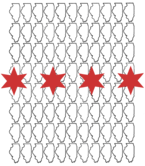 About This Shirt

When French explorers Jacques Marquette and Louis Jolliet roamed the land of what would become the great state of Illinois they could not have fathomed what a great state the land they were standing on would become. As time went on, Illinois would become a state that gave the nation Abraham Lincoln as well as other prominent politicians such as Hillary Rodham Clinton, Jesse Jackson, and Barack Obama. It would be a state that became home to the Chicago Bears, the Chicago Cubs, the White Sox, the Blackhawks, the Chicago Bulls, the Chicago Fire (that's six major league sports teams in one state!). Illinois gave the world the soothing sounds of Nat King Cole, the angry, political guitar rock of Tom Morello, and the soulful blues of Muddy Waters. The acting talent that has come from Illinois has been impressive as well; Bill "Back Off, Man! I'm a Ghostbuster!" Murray, Gillian "Agent Scully" Anderson, Amy "I've Got Something to Say!" Sedaris, all of them came from Illinois. And the greatest thing Illinois has to offer? We cannot deny that we are just a little biased when we say that Chicago is the greatest thing Illinois has to offer! The Windy City, the Second City, the City of Big Shoulders; whatever you call it, you know it's the best. So get this custom design on your favorite tee to celebrate Illinois and the Windy City!
Have questions about our shirts? Need details on sizing and fit? Get all your questions answered right here.
We offer USPS Priority Mail shipping for all orders to anywhere within the United States. Want to know when you'll receive your stuff or how we ship? All is revealed in our frequently asked questions.