I Love Ass Mens Shirt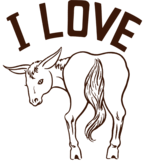 About This Shirt

A great ass is like a beautiful work of art. Centuries ago great poets like William Shakespeare, John Donne, and Petrarch were writing about the beauty of a woman's face, grace, body, and hair. Today our talented poets are writing beautiful, catchy, and rocking songs about the joy of ample booties. Destiny's Child gave us the big booty anthem "Bootylicious," Sisqo delivered the line "Dumps like a truck" to the world, Spinal Tap got us all rocking with "Big Bottom," Sir-Mix-A-Lot declared that his anaconda doesn't want none unless you've got buns, hon, and Queen not only rocked us but demanded we get on our bikes and ride with some beautiful fat-bottomed girls. There is nothing wrong with loving ass, so get this shirt to show your love for bootylicious ladies. Get this design on a variety of tee shirts and tank tops and proclaim your love of booties of all sizes. Tap that ass, back that ass up, and appreciate that ass because bony or bountiful, booty is beautiful. Wear this shirt out and about to show everyone just how you feel and remember that fat-bottomed girls will be riding today, so look out for those beauties all year.
Have questions about our shirts? Need details on sizing and fit? Get all your questions answered right here.
We offer USPS Priority Mail shipping for all orders to anywhere within the United States. Want to know when you'll receive your stuff or how we ship? All is revealed in our frequently asked questions.