How You Doin Men's Shirt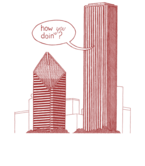 About This Shirt

The Smurfit-Stone building is a fine, beautiful lady in a majestic skyline dominated by masculine skyscrapers. Like any woman alone in an environment dominated by men, Smurfit-Stone must fend for herself. Of course she is going to get hit on by the Heritage at Millennium Park, IBM Plaza and the Aon Center. The Smurfit-Stone, or "The Vagina Buliding", is the pretty lady who stands out above the rest on Michigan Avenue and in the Chicago skyline. We love her so much. We loved seeing her get scaled by Elizabeth Shue in "Adventures in Baby-Sitting" as much as we were sad to get destroyed in Michael Bay's "Transformers: Dark of the Moon". The story of the Smurfit-Stone Building being designed as a female response to the phallic skyscrapers of the Chicago skyline has been proven to be untrue, but it is kind of a nice story to believe. The Gloria Steinem within all of us likes the vaginal middle finger to the patriarchal construction of the impressive architecture that comprises the iconic skyline of the Windy City. Smurfit-Stone, in a cityscape that is dominated by impressive, masculine structures, you stand out above the rest. You may not be as overwhelming as the Willis Tower, you may not be as new and eye-catching as the Trump Tower, and you may not be a big tourist attraction as the John Hancock Center, but you are a powerful force, a unique addition, and a beautiful lady in the eye-catching skyline of the Windy City.
Have questions about our shirts? Need details on sizing and fit? Get all your questions answered right here.
We offer USPS Priority Mail shipping for all orders to anywhere within the United States. Want to know when you'll receive your stuff or how we ship? All is revealed in our frequently asked questions.