Hot Carl Mens Shirt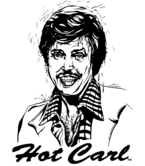 About This Shirt

When two people love each other very much, they like to express their love in a very adult fashion. Sometimes expressing that love involves a candlelit dinner, roses, and making sweet, sweet love by a fireplace. Sometimes expressing that love involves writing a beautiful sonnet, buying a heart-shaped box of chocolates, and making sweet, sweet love on a beach. Sometimes expressing that love means getting naked, lining your partner's mouth with Saran Wrap, and then pooping in their mouth in the act of making sweet, sweet love. The Hot Carl, like the blumpkin, the rusty trombone, the Cleveland steamer, the golden shower, and the donkey punch, is just one of the many dirty, filthy ways to show someone just how much you love them. With all of the ways to express your feelings to another person, perhaps having them lie under a glass coffee table while you poop on it is the best way to show your complicated emotions. At Strange Cargo, we will never judge you for the way you express yourself, as long as you do it with great fashion sense. Display your love of this act with this custom design on your favorite tee shirt and make a bold statement about how you show your affection.
Have questions about our shirts? Need details on sizing and fit? Get all your questions answered right here.
We offer USPS Priority Mail shipping for all orders to anywhere within the United States. Want to know when you'll receive your stuff or how we ship? All is revealed in our frequently asked questions.