Homo Love Mens Shirt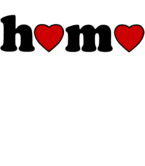 About This Shirt

It's time to support homo love, y'all! Change comes when the masses stand up and demand it; it it high time we show our support for gay love, gay marriage, and gay rights. With states like Maryland, Maine, and Washington legalizing gay marriage, it is time to rally other states to get on board. It is time to show Chik-Fil-A, the Boy Scouts of America, Wal-Mart, and Urban Outfitters that their homophobic policies will no longer be tolerated. It is time to move forward, it is time to move toward equality and love instead of retreating into a dark age of discrimination and intolerance. As we move toward progress, as we move into an age of unity, we must continuously push and show our support. Get this "homo love" design on your favorite tee shirt, tank top, or hooded sweatshirt today and start strutting your support. Organization, determination, perseverance, and on point fashion sense will topple our obstacles, cripple our adversaries, and achieve our goals of equality and love. Show your love, show your support, and show your fashion sense with this "homo love" transfer on your favorite tee shirt, exclusively from the Windy City's favorite tee shirt store, Strange Cargo.
Have questions about our shirts? Need details on sizing and fit? Get all your questions answered right here.
We offer USPS Priority Mail shipping for all orders to anywhere within the United States. Want to know when you'll receive your stuff or how we ship? All is revealed in our frequently asked questions.