Holden Caulfield is No Phony Mens Shirt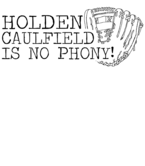 About This Shirt

People never notice anything. Make them stand up and pay attention with this Holden Caulfield-inspired tee shirt design exclusively from Windy City's most non-phony custom tee shirt shop, Strange Cargo. This shirt is the perfect accessory to go with your hunter's cap when you hit the town to dance with some fine ladies from Seattle or a quiet evening with Sunny (well, quiet until she returns with Maurice). This design is no crumby piece of shit; this is a high-quality design for a high-quality symbol of teenage angst, the struggle against growing up, and the desire to hold onto the innocence of childhood, and the desperation of seeing it slip through your fingers. This shirt shows that you know Holden is no phony, and that he properly uses his gift for composition to tell the masses his view of the world (as opposed to his brother who is busy being a prostitute in Hollywood). Holden Caulfield has gone down in literary history as a controversial character that is either showered with reverence or abhorrence. Celebrate this divisive character of American literature with this original design exclusively from Strange Cargo and show the rest of the world that you, too, are no phony.
Have questions about our shirts? Need details on sizing and fit? Get all your questions answered right here.
We offer USPS Priority Mail shipping for all orders to anywhere within the United States. Want to know when you'll receive your stuff or how we ship? All is revealed in our frequently asked questions.