Happy Hour Men's Shirt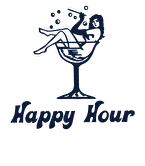 About This Shirt

Every hour can be happy hour when you don this shirt. After a long day of working at the office, there is something comforting about the happy hour sign at the bar on your way home. Though happy hour is illegal in Illinois, it is still refreshing to step into a good bar after a long day at work and enjoy your favorite drink. Loosen that necktie, kick off those high heels, and order yourself a gin and tonic, vodka and tonic, martini, appletini, rum and Coke, Jack and Coke, sloe gin fizz, Harvey Wallbanger, Tom Collins, Jameson on the rocks, or scotch on the rocks. Whether you are buying and selling people in the financial district, selling peanuts and Old Style at Wrigley Field, or working on the El tracks throughout the day, your occupation entitles you to Happy Hour at your favorite bar or pub. A hard day at work should absolutely be followed by a hard drink to wash away the stress of the day. Celebrate happy hour whenever you can, and when you do be sure you are sporting this classy design from Strange Cargo on your favorite tee, tank or hoodie. No happy hour is complete without the perfect outfit, so keep this hidden beneath your dress shirt or blouse to bust out like Clark Kent when you hit the bar!
Have questions about our shirts? Need details on sizing and fit? Get all your questions answered right here.
We offer USPS Priority Mail shipping for all orders to anywhere within the United States. Want to know when you'll receive your stuff or how we ship? All is revealed in our frequently asked questions.