Happy Chanukah men's Shirt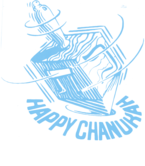 About This Shirt

If all you know about Hanukkah is taken from Adam Sandler's movie "Eight Crazy Nights" (which is inspired by the Adam Sandler song of the same name), it is time to reevaluate how you are living your life because you are taking lessons in culture from a man who has made an entire career out of speaking in jibberish and fart noises. Hanukkah is about far more than Adam Sandler screaming nonsense for two hours and rhyming the names of celebrities. Hanukkah is the eight day festival celebrating the rededication of the Second Temple in Jerusalem. It is a cause for rejoicing! So grab your dreidel and grab your menorah and get ready for eight nights of singing "Ma'oz Tzur," reciting Hallel, and eating latkes, sufganiyot, pontshkes, and bimuelos. Celebrate eight nights of rich Jewish history with this "Happy Hanukkah" dreidel shirt exclusively from Strange Cargo. Look fashion forward this Hanukkah and spend this special time having a grand feast and lighting candles with your loved ones (and stop basing your understanding of religion and culture on Adam Sandler...and stop saying that "The Waterboy" was the greatest movie of all time).
Have questions about our shirts? Need details on sizing and fit? Get all your questions answered right here.
We offer USPS Priority Mail shipping for all orders to anywhere within the United States. Want to know when you'll receive your stuff or how we ship? All is revealed in our frequently asked questions.