Grow Your Own Men's Shirt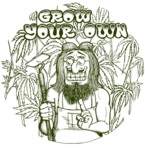 About This Shirt

Why deal with a middleman when you can simply grow your own? Nancy Botwin and Conrad Shepherd flew from the middle management of Heylia in "Weeds" and started their own grow house in the suburbs. Sure, it did not work out exactly as planned, but not every grow house ends with Armenian mobsters pointing guns at you. Growing your own comes with many benefits. You are tending to the beautiful earth and growing something wonderful. You are practicing botany skills to produce a chronic crop. Most importantly, you are no longer at trying to track down that friend of yours that might help you score in the middle of the night only to spend a night sober and upset. Yes, there are many benefits to growing your own. You know exactly what you are getting and if your bag is ever empty, you can go out to your garden and pick some of your prized crop! In parts of Canada, it is legal to grow marijuana for medicinal purposes. Damn your glaucoma, you have a crop of medicine just out back soaking in the sunshine. So get this custom "Grow Your Own" design from Strange Cargo on your favorite tee, tank or hoodie and show your support for growers all over the world.
Have questions about our shirts? Need details on sizing and fit? Get all your questions answered right here.
We offer USPS Priority Mail shipping for all orders to anywhere within the United States. Want to know when you'll receive your stuff or how we ship? All is revealed in our frequently asked questions.