Good Smoke For Good Folk Men's Shirt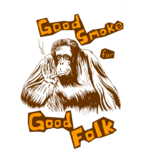 About This Shirt

There is nothing worse than bad folks ruining your afternoon enjoying spliffs and hits from the pipe. Toking up can be a sour experience with the wrong people in your crowd. Bad company creates such a terrible buzz. Downers, incessant talkers, highly-emotional people are people you do not want to share your marijuana experience with. Waking and baking with that Debbie Downer in your life is never a good idea. That's why we promote good smoke for good folk. As Brian May says, "Take care of those you call your own and keep good company," and we could not agree more, especially when it comes to sharing your ganja. Make sure you surround yourself with people who enjoy watching cartoons, laughing at "Up in Smoke," listening to Grateful Dead bootlegs, eating bags upon bags of Doritos when those munchies set in, and giggling for hours at everything in life. Don't be a silly monkey, only surround yourself who like good tokes and good folks on a lazy afternoon. So suit up in this original design from Strange Cargo as you head out with friends who enjoy the same green activities that you do for a great afternoon of bong rips, laughter, television, sunshine and good company!
Have questions about our shirts? Need details on sizing and fit? Get all your questions answered right here.
We offer USPS Priority Mail shipping for all orders to anywhere within the United States. Want to know when you'll receive your stuff or how we ship? All is revealed in our frequently asked questions.