Genuine Irish Parts Mens Shirt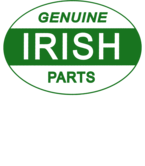 About This Shirt

How do you build the perfect Saint Patrick's Day celebration in Chicago, Illinois? By using only genuine Irish parts, that's how. A great party for Saint Patty's Day is not complete without Jameson whiskey, Irish Car Bombs, Guinness pints, Bono glasses, shamrocks, sweet dance moves from Michael Flatley, a copy of "Ulysses" by James Joyce, green beer, the Chicago River dyed green, a citywide party stretching from the South side to the North side of the Windy City, Chicago-born Irish-Americans like the hilarious John C. Reilly, a skull cap like The Edge, a drunken cheer of "Slainte!", a bowl of frosted Lucky Charms (because they're magically delicious), the annual Flogging Molly concert at the Congress, and ending a drunken evening with someone you love (or just met) while watching Conan O'Brien. Genuine Irish parts make a genuine Irish celebration. Accept no substitutes; only employ great Irish elements in your holiday (or mostly Irish components, like Chris O'Donnell). Make sure you are raising your toast of green beer to the best of the best of Irish culture. So, Slainte, to you and your genuine Saint Patty's celebration this March! Make it a great Irish party with this "Genuine Irish Parts" tee from Strange Cargo to let the pub know you love the best things about the Emerald Isle!
Have questions about our shirts? Need details on sizing and fit? Get all your questions answered right here.
We offer USPS Priority Mail shipping for all orders to anywhere within the United States. Want to know when you'll receive your stuff or how we ship? All is revealed in our frequently asked questions.