Game Over Mens Shirt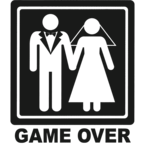 About This Shirt

To quote Bill Paxton, the greatest actor of our time, in the science-fiction classic, "Aliens," "Game over, man! Game over!" Your best buddy is tying the knot, and his time spent going out to the bars to watch the game, getting rowdy at Dave and Buster's, and embarking on impromptu road trips are now going to be greatly diminished if not over for good. From now on, he will be worried about the mortgage, the kids, family picnics, report cards, and keeping up appearances. Give him a proper send off with a great bachelor party with strippers, Old Style, and a cake and be sure to get him this great custom shirt from Strange Cargo to really drive home that his leisure time spent drinking all night and getting into trouble are over. This design looks great on a variety of tee shirts and hooded sweatshirts, so make sure he looks good as you give him a proper send off into the world of marriage. Be sure to buy your buddy a lot of Heineken, Pabst Blue Ribbon, Patron, and Jameson to make sure his last hours of freedom are spent in a drunken haze of fun and mayhem before it's time for the big day.
Have questions about our shirts? Need details on sizing and fit? Get all your questions answered right here.
We offer USPS Priority Mail shipping for all orders to anywhere within the United States. Want to know when you'll receive your stuff or how we ship? All is revealed in our frequently asked questions.