Fuck You This Is My Costume Mens Shirt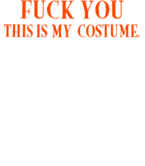 About This Shirt

You know, not all of us have the time, the passion, and the budget to create phenomenal, over-the-top Halloween costumes (or costumes for a random costume party, for that matter). Sure, many people have the time, the talent, and the budget to make an elaborate Marie-Antoinette costume, a stellar Abe Lincoln, or over-the-top Alien and Chestburster costumes. Some of us were born to be the eccentric center of attention and some of us are made to show up and fucking party. For those of you who are born to rage and born to party, this shirt is for you. This is your fucking costume because you know that when it comes to partying, money shouldn't be spent on elaborate costumes and pageantry. Your hard-earned money should be spent on the most important party accessory: BOOZE! So, show up to your next costume party in this delightful tee; if someone in a Queen Elizabeth I costume decides your costume is not worthy, fuck them! Partying hard is not for the weak; so make sure you are able to stay mobile, stay focused, and stay stylish in this great costume shirt exclusively from Chicago's favorite custom tee shirt shop, Strange Cargo.
Have questions about our shirts? Need details on sizing and fit? Get all your questions answered right here.
We offer USPS Priority Mail shipping for all orders to anywhere within the United States. Want to know when you'll receive your stuff or how we ship? All is revealed in our frequently asked questions.